Frequently Asked Questions (FAQ)
There are so many models: how do I find the best hammock for me?
Using our Quick Hammock Finder will help focus your search for your perfect hammock.
Go to the Hammock page. In the search box on the left, titled "Find your Hammock Quickly", you can filter your choices to narrow down the selection easily.
ENTRY SYSTEM. This will quickly reduce the number of hammocks to about half. Select the entry style you prefer, either the "Side entry with Zipper" or "Bottom Entry with Velcro". For more information about the differences between Zip and Classic entry styles, review the Hammock Features page.
SIZE Next, choose the size that matches your height. ( Fits up to 5'6", 5'.8", etc. This usually reduces your choice down to between two and six models. Hennessy Hammocks are amazingly comfortable. If a few more ounces is not a concern, picking a hammock the next size up is even more comfortable.
FEATURES Now it's easy to see the differences. Some have a single layer bottom, some have a double layer bottom to hold a special insulation pad and some have ultralight fabrics and spectra ropes. Think about "What are you going to use it for? Are you heading somewhere tropical or subtropical? Do you need extra insect protection or extra protection from the cold? Is it more important that your hammock be rugged or do you prioritize being lightweight? These factors will all help to determine what is the best hammock for you.
What kind of lashing does Tom recommend to tie up the hammock?
Above: Tom's recommended lashing technique. Easy, quick, it never jams, and it protects the rope.
Watch us tie the lashing by viewing the video above!
If you learn this lashing you'll never have a jammed knot, your ropes will last a long time, and you'll save time. Wrap webbing straps one or more times around the tree and bring loops together in line with the opposite tree. Pass rope ends through webbing loops. Adjust the hammock until it is centered and the ridge line is level and under light tension. Wrap the loose rope end completely around the tensioned support rope and then drop rope end down into the space between the webbing loops and the tree.
Tighten any slack in the lashing. Repeat lashing at least three more times in this "figure 8" pattern and tie it off with two half hitches leaving at least 6"/15 cm of rope. Entrance should be at chair height under tension of your weight.
How do I upgrade to the 30D Silnylon or the 70D polyester Hex fly?
On each hammock product page, click the Green button that says "Build Your Own Hammock". On that page you will have a choice of all the different Hex rainflies available for your hammock.

In STEP ONE you can select your hammock body with preferred length of webbing straps and click add to cart. You can then go on to STEP TWO to choose your rain fly.

You will only pay the difference in the price of the Hex Fly and the stock fly you're trading out.
Is there a charge for longer webbing straps?
There's no additional charge for longer webbing straps if you purchase through the Hennessy Hammock website. You can click on the "Build your own Hammock" option on the hammock product page and choose any length of webbing strap.
What size tree will 42"/72"/96" Webbing Straps go around?
Our stock 42" webbing straps will go around a 14" diameter tree which is long enough for most forests. A 72" strap will go around a 24" tree and a 96" strap will go around a 32" tree. Just remember that you may not want the longest strap if you don't camp in areas of the world that have really big trees or do not want to carry the extra weight.
How do I upgrade to longer webbing straps?
On each hammock product page, click the Green button that says "Build Your Own Hammock". On that page you will have a choice of all the available webbing straps lengths for your hammock.
In STEP ONE you can select your hammock body with preferred length of webbing straps and click add to cart. You can then go on to STEP TWO to choose your rain fly.
What models offer the best protection from mosquitoes?
All Hennessy Hammocks have tightly woven, high density bottom fabrics to prevent being bitten through the bottom. Also, Hennessy Hammocks use a very tough and fine mosquito mesh which is above you keeping the mozzies away.
The general consensus is that the Classic bottom entry hammock models with a velcro seal offer better protection from mosquitoes than the side entry models with a zipper
The classic bottom entry works great when you are being followed by a cloud of mosquitoes. When you duck your head down to open the bottom entrance, the mosquitoes don't know what you're doing, so they get out of the way for a few seconds. Before they know what's happened, the door has snapped shut and you are on the inside and they are on the outside.
Do your hammocks work with traditional underquilts?
There are too many underquilt designs on the market to satisfactorily answer that question. Some do and some don't. Until we came up with our insulated hammock designs, there was little choice.
Does Hennessy Hammock make an underquilt?
We don't make an underquilt because we found that a two layer bottom with space between the layers for adjustable insulation offers many advantages at a lower cost.
Hennessy Hammock offers two different insulated hammock systems that save the expense of a separate underquilt. The Jungle Expedition , the Jungle Explorer and the Jungle Safari, Deep Jungle and Deep Jungle XL are for temperatures above 40F/5C degrees. The 4Season Expedition, 4Season Explorer and the Les Stroud Survivorman hammocks are rated below freezing depending on how much insulation you add.
What are the advantages of Hennessy insulation systems over aftermarket under quilts?
When we were prototyping early underquilt designs we noticed that it was difficult to keep body heat from leaking out from gaps between the hammock and the quilt as the sleeper moved into different positions during the night.
Our solution was to eliminate the underquilt concept completely. Instead of an underquilt with two layers of fabric and insulation, our design uses one layer of fabric sewn to the bottom and insulation. This saves weight, cost and solves the issue of air gaps between the hammock and the insulation.
Do you sell/recommend a hammock stand?
We do not offer a hammock stand. Many inexpensive hammock stands have a steel pipe running directly under your body which would be painful if the hammock accidentally drops to the ground. There are also hammock stands that have two parallel steel pipes that are off to each side of the hammock which are safer.
Can I set my hammock up in my house?
I don't know, talk to mommy about that.
Sorry, I couldn't resist.
Sure you can set your hammock in the house. Many hikers come off the trail after several weeks or months to discover that they cannot get comfortable with their old bed. So guess what, they throw out the bed and sleep in their hammock. One hiker we met at Trail Days was named Mountain Mike. The last time we talked to him he had been sleeping in his Hennessy for about 13 years. When he wants to go hiking again, he throws his hammock in his pack and takes his favourite bed with him.
There is also a video of another tramper named Cambell we met on Stewart Island, New Zealand in the "Hikers Talk" section under "About Bad Backs". /pages/bad-backs-videos
Do you do repairs?
Yes, we have a repair facility in Canada. To discuss repair options depending on the type of damage and the age of your gear, please email info@hennessyhammock.com. We are committed to helping you find the quickest and least expensive way to get your repairs completed.
Can I use a US VISA gift card?
We have found that this form of payment does not work with our web payment portal. Please email info@hennessyhammock.com if you want to discuss this further.
Can I request a certain model in a different color?
Although each model hammock comes in only one neutral colour, when you choose the Green "Build Your Own" button on the product page, there is a choice of colours for the oversize HEX FLY such as Titanium Grey, Burnt Orange and Goldenrod.
In the early days we did make hammocks in different colors for Boy Scouts and festivals but most of our customers prefer stealthy tones of gray, brown or green to blend into the environment.
What is your return policy?
When you receive your hammock, set it up and try it out to be sure it meets your expectations. If you're not satisfied, please contact us and we'll email you a return form so that you can return the product within 7 days for a full refund.
What is your warranty policy?
Our hammocks are guaranteed against defects in materials and workmanship for one year. Damage due to wear and tear can be repaired for a reasonable charge. Check your hammock stuff sack for the weight limit and remember that our hammocks are guaranteed for use by one person. Note: we cannot offer warranty protection to hammocks that have after-market modifications such as zippers, rope changes, ridgeline changes or installation of any devices for quick tensioning which can cause damage to the suspending ropes by pinching or point-loading.
Do free SnakeSkins come with my hammock order or do I have to add them?
Yes, a complimentary set of SnakeSkins will be added automatically to any hammock ordered through the Hennessy Hammock web store. If you order multiple hammocks in a single order, you'll receive a set of SnakeSkins for each hammock in your order.
Do free SnakeSkins come with my order which does not include a hammock or do I have to add them?
Only orders that contain a hammock body will be shipped with the free set of SnakeSkins. Otherwise, they will have to be added to your shopping cart.
How do you attach SnakeSkins?
SnakeSkins arrive as a set of two tapered fabric sleeves. Simply slide the hammock suspension ropes into the wide mouth ends of each SnakeSkin and out the other ends. Tie up the hammock and then roll the hammock around the ridgeline and smooth out the wrinkles. Then you can slide the SnakeSkins together to meet in the middle. We have a "Set up SnakeSkins" how-to page which includes a video where you can see the SnakeSkins in action.
Will the Hex Fly fit in the SnakeSkins with the hammock or does it need it's own set?
Yes, although the Hex Fly is roughly twice the size of a standard rainfly, it will fit fairly easily into the SnakeSkins XXL with the hammock.
Some hikers like to use a second set of SnakeSkins because the rainfly is usually covered with dew or rain in the morning. It's a good idea to keep the wet fly in the SnakeSkins coiled up on the outside of your pack, ready to set up again in the rain even before opening up your pack.
Before taking down the fly in the morning, some hikers like to keep their sleeping bag inside the hammock and stuff both sleeping bag and hammock into the top of their pack without snakeskins, then close up their pack under the fly out of the rain. Then they collapse their rain fly into their SnakeSkins, coil it up on the outside of their pack, ready to set up in the rain again in the evening. Remember to thoroughly dry all your gear before you store it away at home.
How much bigger is the hex fly than the standard rain fly?
The Hex Fly is roughly twice the size of a standard rainfly in terms of its area of coverage.
What is the best way to clean my Hennessy Hammock?
We recommend that you fill a bucket with warm water and a small amount of liquid dishwashing detergent. Soak the hammock in the water for a few hours or more, then plunge the hammock for a few minutes. Drain the soapy water and rinse with clear warm water several times. Hang to air dry.
Avoid using a washing machine because the cords and ropes will become twisted and tangled and the hammock could be damaged.
What does "asym" mean?
Originally, Hennessy Hammocks were all diamond shaped, with the widest point at the middle of each side. Then Tom realized that the hammock would be more comfortable for sleeping if the occupant could lie as flat as possible by lying diagonally at about a 15 or 20 degree angle. He moved the side tie-outs so one was near the knee on the right and one was half way between the shoulder and elbow on the left which resulted in the patented asymmetrical or "asym" shape. Hennessy rain flies are also asymmetrical to match the hammock shape and provide the most efficient coverage and reduced weight when laying on the diagonal.
Which hammock models are asymmetrical?
All Hennessy Hammocks sold on the websites are Asymmetrical.
Do you have hammocks or Hex flies in camo patterns?
Temporarily, we are sold out of Camo Hammocks and Hex flies in our online store, however we are looking to expand that lineup in the future. Check back to see which items might be making their debut.
What is the best sleeping bag to use in a hammock?
From our experience, a center zip sleeping bag is best for a couple of reasons.
When you are laying in a hammock, the sides slope up at an approximately 45 degree angle. When you try to move the top layer of the bag off of your body, it falls back on top of you unless you push all that insulation under one side of you, which can be uncomfortable.
The center zip works very nicely in a hammock. When you unzip and move the insulation off of your body, half of the insulation goes each way and easily tucks under your arms, which feels good. The center zip feels like you are zipping or unzipping a jacket. If you are too warm, just unzip a little or all the way down near your toes. It's also nice to flip the bag over like a big quilt and put your feet into the closed end. If it gets too warm, you can lift the whole quilt to quickly release heat.
A 'centre zip' style sleeping bag will also be easier for getting into and out of both the bottom velcro entry and the side zip entry styles.
Will my current ground pad work in the hammock?
Most ground pads for tents are only about 20"/50 cm wide which isn't nearly wide enough for sleeping in a hammock. You can lay on your side in a hammock but most hikers spend most of their time on their backs. If you are using a narrow ground pad, the back of your arms will hang out over the sides of your pad and get pretty chilly.
There is a lot more contact surface in a hammock, which is why we make two different 30" and 36" wide mummy shaped pads.
Our DoubleBubble pad is similar to an automobile windshield reflector pad. It has two layers of air bubbles and a reflective mylar coating on both sides. The DoubleBubble pad clips into the side corners of any single layer hammock and between the layers of our Jungle models. This pad is recommended for milder temperatures above 40 degrees Fahrenheit or 5 degrees Celsius at night.
For the 4Season Series we also make a highly compressible open cell foam pad designed to fit between two layers of hammock bottom. This system includes a reflective mylar space blanket which can be placed above or below the foam pad to control condensation for hot or cold sleepers.
What are the temperature ratings for the DoubleBubble Pad and the open cell foam UnderPad?
The DoubleBubble pad is recommended for milder temperatures above 40 degrees Fahrenheit / 5 Celsius at night.
When the open cell foam UnderPad is placed between two layers of bottom fabric with a radiant space blanket, it is rated down to 30F/ C. The advantage of this system is you can increase the insulation value of this system by placing a jacket, raincoat, poncho, clothes, socks, your hat or anything in your pack with insulation value over or under the pad to lower the rating down to -10F/ C or below.
Can I set up the hammock on the ground if necessary?
Yes, you can set up your Hennessy Hammock as a tent on the ground as long as you have a waterproof layer such as a tarp, a plastic sheet or a space blanket to protect you from ground moisture or anything sharp that could damage the fabric. You will need two hiking poles or sturdy sticks. See the video on our "Set up on the Ground" page
Does ridge line length affect comfort?
Yes, the ridge line length has a big effect on comfort. A shorter ridgeline makes the hammock too deep and less comfortable when lying on the diagonal. A longer ridgeline makes the hammock too flat and also less comfortable when lying on the diagonal. After a lot of fine tuning, the ridge line length has been set to the optimum length for each model. We don't recommend changing the ridgeline length. A change of even 2 inches will make a noticeable difference in comfort. Call us for advice if you are need further information..
Are your hammocks sold through retailers?
Yes, we sell many of our products through retailers such as REI in the United States as well as MEC in Canada. Please contact us directly and we will tell you if there is a retailer near you.
How long does it take for orders to ship out?
Our orders usually take one business day to ship. An order placed on a Friday will likely ship the following Monday.
How long does ground shipping usually take in the US?
We have two US warehouses, one in Washington State and one in Tennessee. Depending on where you are located, your order will take 3 - 5 business days for delivery. If your order is time sensitive, please contact us for a more accurate shipping time estimate. All deliveries are subject to local delivery conditions and stock levels. If you are ordering for a specific date, please contact us by phone or email and we can advise you on the best shipping option for your timeline. During the summer and holiday seasons, please allow extra time for your order to arrive.
How long do EU and UK shipments usually take?
EU and UK shipments usually arrive within one week.
How long do shipments outside the US, Canada or the EU take?
If you require information about international shipments, please email info@hennessyhammock.com
Do you offer any discounts?
For timelines on upcoming sales, promotions, charitable donations, Scout or Military discounts and Pro-Deal pricing, please contact us directly through our toll free line, 1-888-539-2930 or by email, info@hennessyhammock.com
Can I sleep on my side in the hammock?
YES! You can sleep on your right or left side, just remember to stay on the diagonal with your feet on the right side and your head and shoulders on the left side.
Can I use a SuperShelter with my Jungle model hammock?
Yes, you can use a Zip-style SuperShelter with your Jungle Expedition, Jungle Explorer and Deep Jungles models but you would be using two different insulation systems on the same hammock. We never intended for both systems to be used together; however, they do work and some people are doing it in extremely cold conditions.
Is there a SuperShelter for the Safari model?
The Safari model was designed as a warm weather hammock to be insulated with the larger, heat reflecting DoubleBubble Pad XL clipped into the side corners of the hammock under your sleeping bag.
The two layer Jungle Safari model was designed to hold the heat reflecting DoubleBubble Pad XL to efficiently trap heat between the two layers of bottom fabric.
What's the difference between the SuperShelter #1 and #2?
The "#1" and "#2" refer to our two most popular hammock sizes. The SuperShelter #1 is designed for the single layer Expeditions, Ultralite Backpackers, and Hyperlite. The SuperShelter #2 is designed for the single layer Explorers

The Safari Zip and Safari Classic models are considered warm weather hammocks and work well with the DoubleBubble Radiant Reflector Pad XL.

Also we have recently introduced the double layer Jungle Safari which has a pocket to hold a heat reflecting DoubleBubble Radiant Reflector Pad XL on the correct diagonal.


How far apart should the trees be?
We recommend a span of between 14 and 20 feet for best results. The shortest distance is just enough so the adjustments for the rain fly will work. If the distance between trees is much more than 20 feet, you may have difficulty reaching high enough up the tree to keep the hammock at the right height off the ground.
Should I put Whoopie Slings on my hammock?
Because we cannot guarantee the quality of third party accessories, any changes to our products will void the warranty.
Can I use double rings or other metal hardware on the suspension system?
There is a wide variety of aftermarket suspension systems for the Hennessy Hammocks. Some hammocks that have been returned for repairs have had serious damage by some of these accessories like the double rings and other devices that have teeth, "point load" or pinch the ropes in one spot. This damage to the ropes is not covered by our warranty.
Why does Hennessy Hammock still recommend using a knot to set up their hammock?
Hennessy Hammock has done extensive testing on the safest way to set up your hammock. The system we recommend is not a knot, it's a lashing. A lashing will never jam no matter how wet or tightly your weight pulls on it. A lashing is multiple wraps of soft rope on rope. It is easy to untie, minimizes damage to the rope and webbing straps, saves weight and extra cost. You can view a video on lashing technique on our Hammock Set-Up page.
What's the difference between the zip and the classic models?
The only difference is the type of entry. The Zip model has a tough YKK zipper on the side between the hammock fabric and the mosquito mesh. The Classic model has a velcro seal at one end on the bottom of the hammock.
The main advantage of the Zip model is that you can get into the hammock and on to your sleeping pad more easily than with the bottom velcro entrance. The Zip model can be opened up in nice weather or when you want to be open to the stars.
The velcro entrance is still the entrance of choice for military who want to be able to exit the hammock quickly and for campers who are in challenging environments; for instance, where there are voracious mosquitoes trying to fly into the hammock. The 'Classic' velcro bottom entry is also particularly useful for people with mobility issues.
How can I order a Hennessy Hammock?
To order, start with our online catalogue and secure shopping cart or phone our toll free number at 1 (888) 539-2930. Our international number in Canada is 1(250) 539-2930.
How to contact Hennessy Hammock?
We pride ourselves on providing excellent customer service and on being attentive to the Hennessy Hammock user community. Please feel free to contact us through any of these methods:
Phone
(USA and Canada) toll free (888) 539 2930 outside USA and Canada 1 250 539 230
Email
Email info@hennessyhammock.com
Mail
637 Southwind Road Galiano Island BC V0N1P0 Canada
Facebook
Check out our Facebook page! Also, please use the share buttons on the bottom of every page to make sure your friends know about us. https://www.facebook.com/HennessyHammock/
HH Gearmail
Get onto our mailing list and get updates on specials, new models and accessories..plus be automatically entered for our monthly draws of free hammocks and other gear!
You can use the form at the bottom of the home page.
Confidentiality
Your information is confidential and will never be distributed or shared with anyone else; for more information see our privacy statement.
Additional Contact Info
If you do not see your question in this list or want to talk to a live person, email us at info@hennessy hammock.com or phone 1 888 539 2930(in North America) or 1 250 539 2930. Our office hours are Monday - Friday, 9 am - 4 pm, Pacific Time Zone. If you call when we are out of the office or on the other line, leave your name and number and we'll phone you back.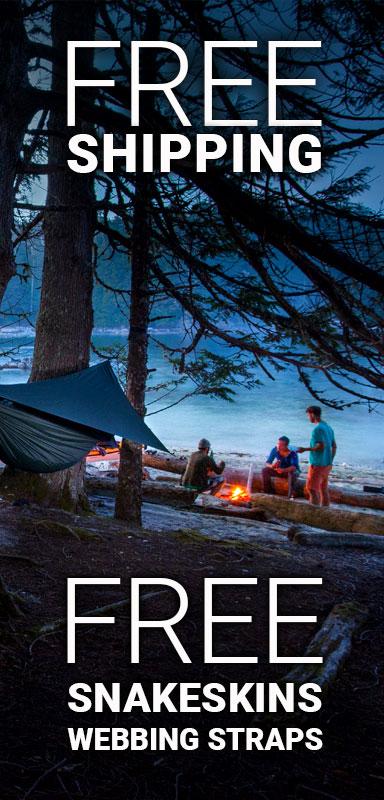 Shop for Gear